January & February Guest Savings & Offers
In January and February 2020, we're offering the following guest special savings and offers:
Flash Foil Sale: Enjoy up to 7 individual foils for only $35.00. Flash foils are a fantastic way to brighten up your strands while maintaining a natural-looking hair color.
Re-booking Contest: For our loyal guests who book their next two appointments, you'll be entered to win a $50 Z Studio gift card.
Gift Card Sale: Our twice a year gift card sale is going on through the end of January. Buy a $100 gift card for just $85. Click here to purchase.
These specials run in conjunction with our other year-round promotions:
We are so thankful for you, our Z Studio guests, and hope that we see you as we start the New Year!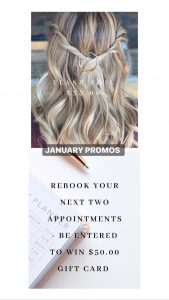 Comments