Don't Be Shy, Leave A Review
Remember the days when newspapers would publish highbrow cultural reviews? Those days are long gone–social media ensures that anyone can be a critic (and to be quite honest, that's how it should be).
Here at Z Studio, the best salon in Tulsa, Oklahoma, we want you to know that we're listening. We read every single word that you write. Your voice and opinions matter and impact how we function, both as a team and as artists. Praise brings smiles to our faces daily. (We really can't tell you how much they mean to us!)
We routinely discuss reviews at team meetings to brainstorm how we can improve your experience even more … because your satisfaction is always our number one priority.
Beau, the owner of Z Studio, said it best: "Your reviews are not just words on the Internet. Your feelings are important, your opinions matter, and most of all, we care."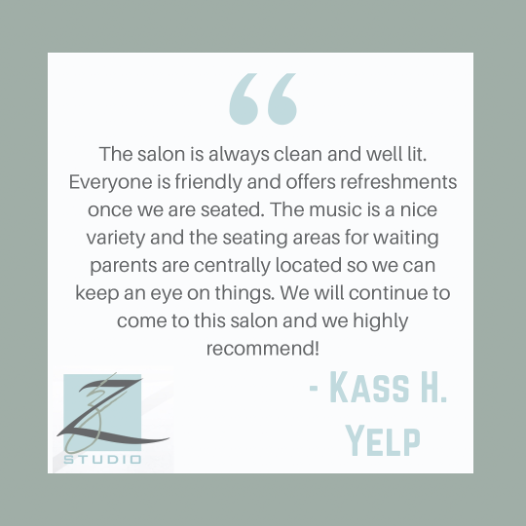 Kass H., review via Yelp.
How Was Your Service Provider?
Each of our team members bring a little extra to the salon experience. We want to know what makes our team shine … so if a stylist stood out to you, let us know! We can provide more of what you love so your stylist performs your service perfectly, every time.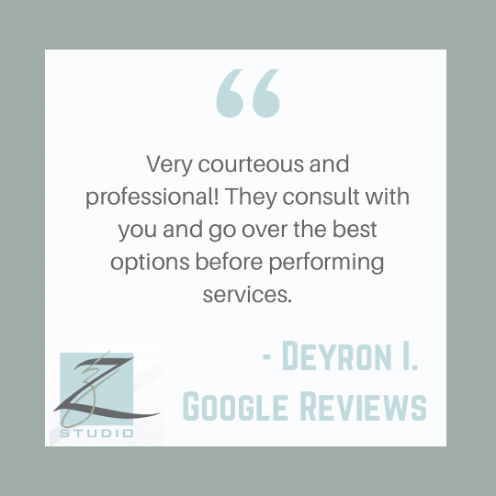 Deyron I., review via Google Reviews.
How Was Your Service?
Did you leave our salon with your dream hair? Tell us about the times we exceeded your expectations! Because when you say "challenge;" we say "bring it on."
Everyone's perfect hair is within our reach … and if you don't know how to describe it to us, we will work with you to figure it out. Whether you had an amazing consultation or learned new tricks for at-home styling, don't spare any details–we want to know about it.
From "hello" to "goodbye", your experience should be transformative and personalized.  Tell us what made your day–your feedback means the world to us.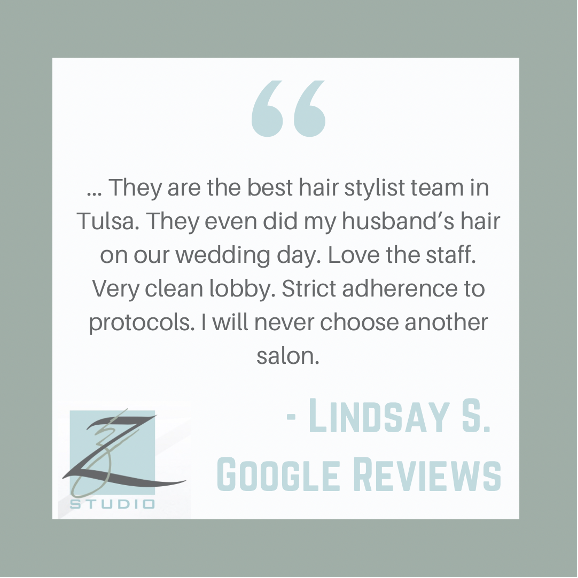 Lindsay S., review via Google Reviews.
How Was Your Experience?
It's all in the details! We know that it's often the little things that make or break the salon experience. We want to hear all about it … from how you prefer to be greeted to your taste in music. Our salon is a home away from home … but is there anything that we can improve upon in our space? It isn't just about leaving with great hair. It's about feeling like your best self.
Stacey E., review via Google Reviews.
What Can We Do Better?
What do we value most at Z Studio? Honesty and ingenuity. If you have a new creative idea, don't keep it to yourself! We are always looking for ways that we can make the best even better. And no one knows us better than our guests.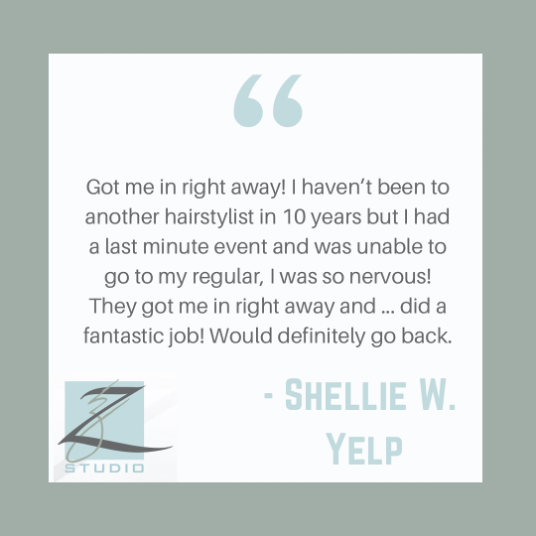 Shellie W., review via Yelp.
Oh No! Did Something Go Wrong? 
Though we strive to make every interaction with our guests a five-star experience, it's possible that we fall short. That's why it's important that we get ALL feedback. If we didn't meet your standards we want to know and to address the concern as quickly as we can.
In that case, we appreciate our guests telling us right away that we missed the mark—either by talking then and there to our guest care team in the salon, calling us at 918.743.5353 (Brookside location) or 918.794.5322 (South Tulsa location), or contacting us here. We want to hear what happened, and we want to make it right.
We know that from the moment you sit in our chair, you are putting yourself and your hair in our (incredibly capable) hands. We are so thankful every time you choose Z Studio–and for every word of support. Our guests are the reason we wake up in the morning, pick up our shears, and go to work. So don't be shy: leave a review. We'd love to hear from you.
Ready to make an appointment? Give us a call at 918.743.5353 (Brookside location) or 918.794.5322 (South Tulsa location). Or book your appointment online.
Comments