The $30 Color, Wednesdays 3-9pm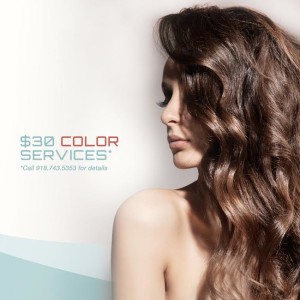 Recently, we unveiled a special new offer for $30 hair color on Wednesdays from 3pm – 9pm.  We wanted to address what you're probably already wondering…
Q: Can I really get a full color for just $30? 
A: Yes. This service is provided to you by our Associate Stylists.
Q: Wait – Associate Stylist? What is that?
A:  They are new Z Studio team members, participating in our Associate Program for advanced training and education. Rest assured, our Associate Stylists are already good at what they do (that's why we chose them for our team!). Some have worked for other salons and some have completed and obtained their cosmetology license, but don't yet have great work experience on the salon floor.
As a part of our Associate Program, these talented stylists are learning advanced technical skills in the many facets of our industry that we've already helped the rest of our team learn. They're also learning about the Z Studio culture, our "Art of Hair" experience, and they work alongside our top performing artist/educators every day, helping to provide services to their guests.
We are confident you will leave with a great "Art of Hair" experience with one of our up-and-coming stylists, as a part of this teaching program.
Q: Why Wednesdays?
A: Wednesdays are designated as the day for our Associate Stylists to develop their own guest list as they continue in our program. It's also important to note that this offer is only valid for new guests, as it's intended to help our Associates build their list of guests.
Q: Is it always going to be $30 to get my hair colored on Wednesdays? 
A: The $30 Color offer is only good one time per guest; after that, the regular Associate Stylist pricing would apply ($50 for a color).
Q: Can I pop in, or do I need a reservation?
A: Although we always welcome walk-ins, due to the demand of this service (and the incredible price/value), we recommend making a reservation in advance, or by phone at 918-743-5353.
*Offer valid for new guests only, and may only be redeemed one time per person. $30 Offer only valid Wednesday evenings from 3pm – 9pm, scheduled with an Associate Stylist. Appointments scheduled with other Artists will not be able to receive or redeem this offer. View our current Associate Stylists.
Comments