Red, White and Blonde: How to Keep Your Color Vibrant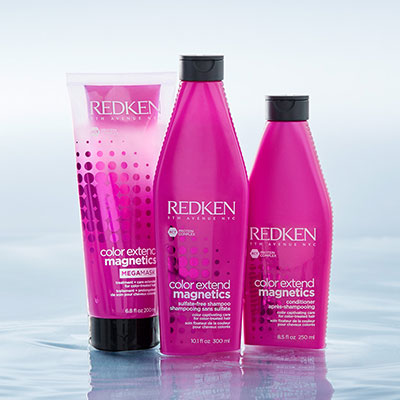 You've finally got the perfect sun-kissed highlights…never mind that they were achieved in a salon, not on the beach. Now how to prevent the actual summer sun and its BFFs—chlorine and salt—from wreaking havoc on your hue? Whether you're sporting a fiery red or a bronde balayage, there are plenty of steps you can take to keep your color in tip-top shape.
Keeping reds ravishing
Ah, red…perhaps the most fickle of all the semi-permanent colors. Red dye molecules are among the largest of all the colors, which means they slip out of hair and fade more quickly. To help slow the process, shower with lukewarm water and opt for a color-safe shampoo and conditioner. We recommend Redken Color Extend Magnetics. It's sulfate-free and formulated with Redken's exclusive Interlock Protein Network, which creates a protein barrier within the hair fiber that helps enhance strength and retain color. It also contains UV filters to protect your red from damaging UV rays.
Blonde ambition
While blondes don't fade, they can become brassy, or worse. after exposure to sun, salt and chlorine. (Anyone who's experienced the dreaded greenish tint after spending a summer poolside knows what we're talking about—more on that later.) That's why washing your hair with a clarifying shampoo is especially important for blondes. Try Pureology's Purify shampoo—it prevents color oxidation and gently removes impurities (like color-dulling residue and buildup caused by chlorine, products, and minerals found in hard water). Rather than using a clarifying shampoo daily though, we recommend alternating with Hydrate or Perfect 4 Platinum shampoo. The latter will actually enhance the brightness and shine of your blonde!
Camouflage your gray
Coming to terms with the fact that those aren't exactly sun-bleached blonde highlights taking over your temples? Let us blend your gray with a quick, easy service that subtly camouflages white hairs, bringing them closer to a silvery uniform color. Best of all, the inexpensive treatment requires only a few minutes to complete—letting you get back to your summer fun even faster.
Pool prep work
Ready to jump in? Pause for just a moment. Before exposing your hair to chlorine, you should always be thinking protection—regardless of color or texture. Hair is porous, meaning it can soak up chlorine-laced pool water like a sponge. To prevent those chemicals from fading or discoloring your hair, treat your strands to a pre-rinse. Step in a shower pre-plunge and wet hair thoroughly. Because your dry hair has already absorbed non-chlorinated water, it will soak up less of the bad stuff—leaving you free to take the leap.
After the sun
After a day in the sun, your hair is as ready for some sustenance as you are. Replenish it with Hydrate Whip Masque, which is packed with nourishing ingredients to revive dry, color-treated hair.
Extra credit: If you have access to a sauna or steam room, apply the masque and slip inside for a few minutes after shampooing. The heat will help the masque penetrate your hair even more deeply, conditioning and fortifying it from the inside out.
For more pro summer hair tips—or to update your look for the season—stop by Z Studio. We'll make it our personal mission to ensure your hair makes it through the long Tulsa summer strong and in style. Go online or give us a call to book an appointment!
Comments