FINALIST: Best in The World 2015
On Sunday, the Tulsa World's Weekend Magazine released it's "Best in the World" feature after more than a month of readers voting on their favorite Tulsa businesses. More than 130 businesses received the "Best in the World" title, in categories from Beauty & Wellness to Quality of Life.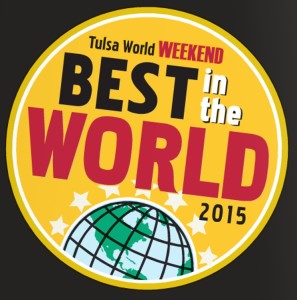 Z Studio: The Art of Hair, would like to thank YOU for taking the time to participate in this year's voting process. If it weren't for you, we wouldn't have received the initial nomination, and certainly wouldn't have been named a finalist.
As a small-but-growing business operating in Tulsa, we're honored to have been selected as a finalist for the second year in a row, and congratulate all of this year's "Best in the World" honorees.
View the complete list of finalists and winners here.
We strive to create an incredible "Art of Hair" experience at Z Studio, and we are so thankful for the loyal guests who have given us such amazingly positive, certified 5-star reviews.
Comments