A Culture of Continuing Education: Magma by Blondor
Z Studio is a commission-based salon where our team is given a clear path to career advancement and growth.
Why should you care?
This means that the level of service and quality of the technical service (cut, color, style, highlights, etc.) you receive while you're in our salon is as important to us as it is to you. It means that our stylists are employees of our company, and must achieve and maintain high expectations for quality, technical skills, and service.
Let us be clear. We're not saying that booth rent salons are bad; there are many wonderfully talented stylists working in them, and many owners who pour their heart-and-soul into their business as we do with Z Studio. And, there are also thousands of commission-based salon companies who don't reinvest in developing their talent.
What we are saying is that Z Studio has a culture of continuing education. All of our stylists are required to participate in monthly continuing education classes and programs as a group. In addition, our team members receive an annual "allowance" for outside educational programs and activities that directly impact their performance at Z Studio.
We were given the name "Tulsa's Hair Color Experts" because we truly do pride ourselves on understanding the world of hair color, and we strive to exceed your expectations every time you visit.
As a Wella Global Elite Salon, we take pride in using the industry's most respected and sought-after color line. And in September, our stylists completed two day-long color classes where they learned more about Magma by Blondor, a Wella Professionals product that lifts and tones in one single step for both natural and already colored hair. Magma by Blondor features 16 inter-mixable shades for maximum creativity from soft to intense end-results.
Our education programs ensure that our entire team stays up-to-date on new formulas, products, and application techniques to enhance the color process, plus the best service and business practices that help us provide you with a phenomenal "Art of Hair" experience every time you visit.
Request your appointment online or call (918) 743-5353 to schedule your free color consultation with Z Studio: The Art of Hair.
Photos of our recent September classes:
Example of Wella Professionals Magma By Blondor Application at Z Studio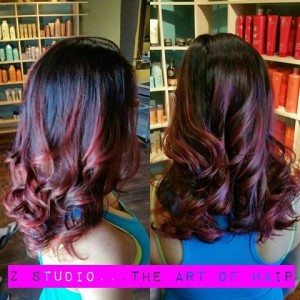 We update our Facebook page daily with more photos of our guests. See the latest new styles, color, techniques, and a showcase of products by liking our page.
Comments